The Lab Standard Stereotaxic Instrument is ideal for researchers in need of a versatile, reliable instrument for stereotaxic procedures with small animals. Precision alignment when using the Lab Standard ensures accurate placement of electrodes, micropipettes, and other devices. The time-proven 'U'-Frame design concept, sturdy construction, and adaptability to most model species make this the best choice for a stereotaxic instrument.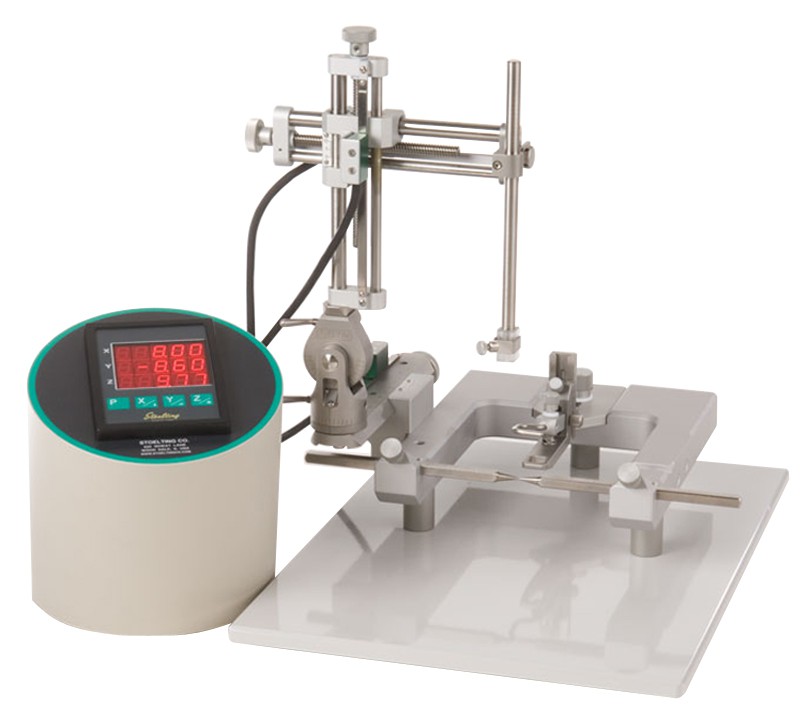 Easily Read Scales: All scales are oriented to be read easily from the open end of the 'U'. This is the position from which most scientists prefer to work. The numerals on the scales are larger, and therefore more easily read. The scale lines are laser engraved, to allow finest possible permanent marking of scales on all 3 axes. Precise alignment with facing vernier scales gives accurate resolution to 0.1mm.
Smooth Movements: The Lab Standard's exclusive, triple lead screws allow the fastest positioning possible, consistent with lining up the scales easily at a given coordinate.
Versatility of Positioning: The manipulator arm controls medio-lateral and vertical positioning via lead screws, and antero-posterior movement via dovetail slide movement, with 80 mm of travel possible in each direction. A Universal Joint allows the investigator to change the angle of the probe up to 90o in either the antero-posterior or medio-lateral planes.
The improved locking mechanism on the Lab Standard will hold any angle position without slippage. And of course, it also provides an absolute lock at 90o vertical.
In addition, a swing joint allows the investigator to conveniently swing the manipulator arm and probe out of the way for performing a procedure ? then reliably return the probe to the same point.
Convenient for Electrophysiology: Integral brass bushings in the manipulator arm allow grounding directly to the closest metal on the manipulator arm?even the probe holder.
Dual Manipulator Model: The 51603 Dual Manipulator Lab Standard has 3-dimensional manipulator arms on both sides, the second manipulator arm being properly reversed as to handedness. Dual manipulators are very useful in studies in which double injections or simultaneous stimulation and recording are necessary.
Included Components: Both the 51600 and 51603 include the U-frame base plate, manipulator arm(s), standard probe holder(s) with corner clamp, and Rat Adaptor (nose clamp assembly and 18? taper ear bars). The 51650 and 51653 include non-puncture 45? ear bars instead of 18? ear bars.
Selection of Accessories: Species adaptors are available to fit rat, cat/monkey, dog/monkey, mouse, guinea pig and small bird. Probe holders and species adaptors for 'U' frame stereotaxic instruments from other manufacturers are generally compatible with the Lab Standard frame.
Lab Standard vs. New Standard
Lab Standard
Rat and Mouse

New Standard
Rat and Mouse
Large, easy to read vernier scales
Scales are laser engraved – accurate to 100 microns
Triple lead screws for fast positioning
80 mm of vertical, lateral and anterior-posterior travel
Absolute lock at 90 degrees (vertical)
Brass bushings in manipulator arm permit electrical grounding
Accessories available for use with a wide variety of small animal
Single and dual manipulator models
Affordably priced…immediate delivery
Rat and Mouse
Rat
Mouse

Rat and Mouse Single

Rat Single

Mouse Single

Rat and Mouse Dual

Rat Dual

Mouse Dual

Rat and Mouse Single Digital

Rat Single Digital

Mouse Single Digital

Rat and Mouse Dual Digital
(No Picture Available)

Rat Dual Digital



Mouse Dual Digital
(No Picture Available)

Rat and Mouse Motor

Rat Motor



Mouse Motor